SAN ANTONI
On 17th January each year we celebrate with the rest of Spain the fiesta of San Antoni – his Saints Day is 17th January and the bonfires are lit the night before. He was reputed to be kind to animals and a supporter of rural life so I'm not sure where the demons come from! Soller Square, in front of the Church is the location of the City's San Antoni barbecue, dance and fiesta on the eve of San Antoni.
---
The City provides the bread and builds the fire pit for cooking and everyone brings their own meat and wine to join the celebrations. San Antoni is another symbol of the power of good over evil so the demons, scary as they are, running through the place always get their come uppance.
The barbeque in the City centre with music and dancing provided by the local 'Demoni' groups is a local spectacle well worth taking part in. A truly local fiesta that all are invited to join.
The history of this fiesta is that San Antoni celebrations lead to the winter solstice and the dances and demons are part of of an ancient fertility rite. The presence of 'fire' to ward off evil spirits and rid the City of its demons is said to be a symbol of the temptations this Saint overcame in the desert. The fire walking by the demons and their own special signature dance and song is in the fabric of this place. The children of the primary schools are all taught the Demoni song as part of their heritage.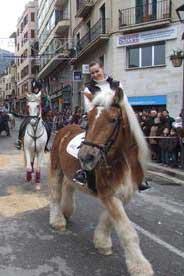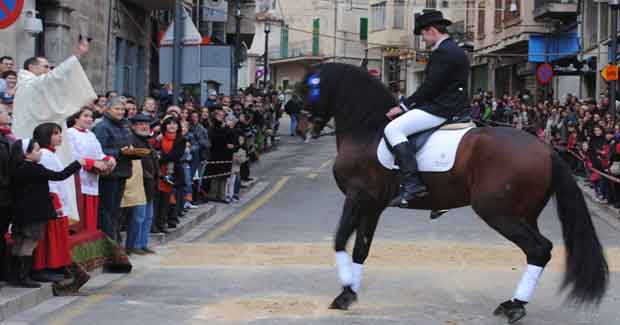 The San Antoni blessing of the animals and the equestrian races take place in Soller on the Sunday after the fiesta. From 3.30 pm the Soller people parade their pets around the square to be blessed by the local priest in the name of San Antoni. He distributes the blessing and the holy water to any animal that turns up. All animals are there from dogs, cats, ferrets, rats, snakes, goats, sheep, baby donkey, chickens. The parade can go on for some considerable time as the priest takes his job very seriously!
The blessings done and the square is cleared for a fine display of the beautiful horses of the Soller Valley. Over 50 horses turn up to parade themselves and their riders in all their finery and race against one another up the main streets. They gallop and hit the ribbons strung across the road above their heads to the loud cheers of the crowds.
The rural community of the Soller Valley revere this Saint and take his celebrations very seriously. Indeed San Antoni celebrations go on in communities all around Soller for a couple of weeks after the Saints Day. You will find local barbecue and demon dances in many locations until the end of January. The formula is always the same - bonfire, barbecue, demon dances and songs and the knowledge that 'good' always wins!
---
Sign up for the SollerWeb newsletter: