BINIARAIX
The small hamlet of Biniaraix is tucked away in the foothills of the Tramuntana. Here you are away from the tourist buses and can see the Mallorca of old going about its daily life.
Walkers, rockclimbers, picnicers all set off across the torrente and into the mountains for a day of peace and tranqulity while the very fit head on the walk to the monastery at Lluc.
From the local bar, the cobbled streets, the old washhouse, and the start of many walking routes, Biniaraix will charm you as it has for generations......you will never want to leave!
---
The Hamlet of Biniaraix is best known for its location as the starting point for the walks to the Puig de Massanella along the Barranc de Biniaraix. Walkers have long known about this wonderful place in the valley of Soller surrounded on all sides by the magnificence of the mountains of the Tramuntana. A circuitous driving route through the outskirts of Soller brings you to the road entrance to Biniaraix which is so narrow that often people drive on. They can't believe the gap is the road entrance to this lovely place!
Walkers and strollers often find Biniaraix by accident as they walk straight down the Lluna - Soller's main shopping street and then just keep on walking. Almost a straight road brings you to the place of choice for so many Sollerics to live. A real village in a beautiful location and yet only ten minutes walk to the centre of Soller.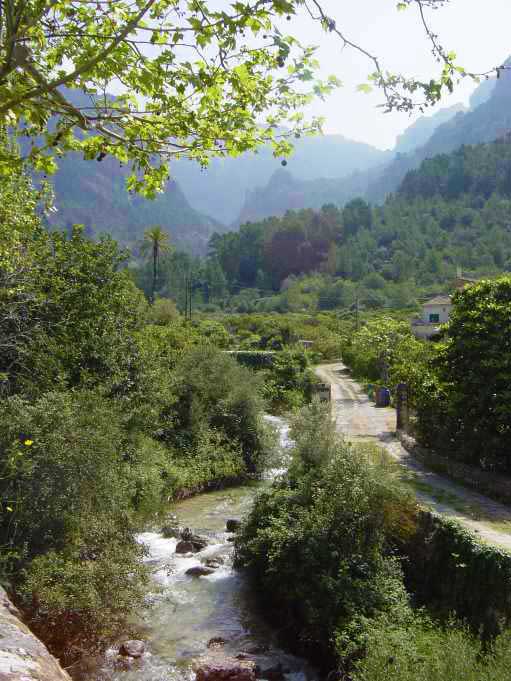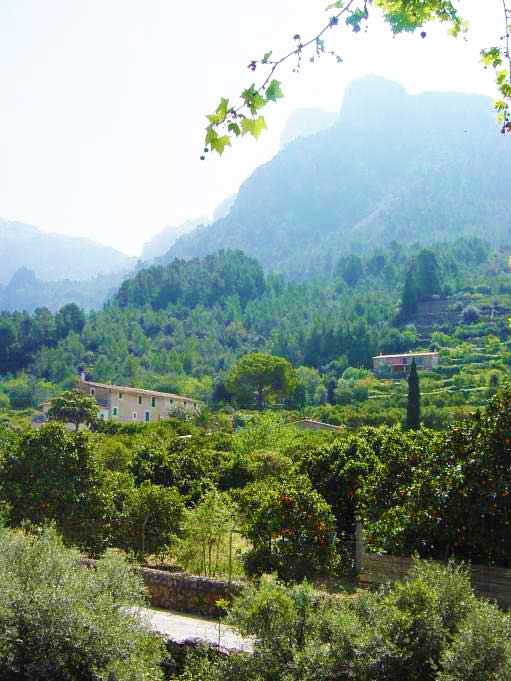 It has a unique location as it is at the halfway point between Soller and the Mountain village of Fornalutx. The Biniariax people have a straight choice between the comparative sophistication of Soller and the calm and beautiful mountain life of Fornalutx.
As you start to walk up to Biniaraix you find your first Church, dedicated to St Philip of Neri with another right in the centre of the village, at the top of the hill before the walks start to the mountains. The white tiled church roof nestled in the Biniaraix valley is emblematic and has been used on many paintings and advertising posters for the area. The white steeple in the foothills of the Tramuntana surrounded by mountains is a scene known and loved by so many.
Biniaraix has a cafe/bar with an outside terrace - a great place for a freshly squeezed orange juice at the end of your walk, and a bus stop for the infrequent buses that come through and that is it's claim to commercialisation! Biniraix is content in its place in the Soller Valley. The church has been there since the 12th Century and the community is one of the longest established in the region.
Small it might be but special it certainly is.
---
Sign up for the SollerWeb newsletter: