NEW YEAR or ANO NUEVO
Soller rings those bells for New Year on 31st December each year and tradition says that you gather in the square with your Cava and 12 grapes.
For each chime of midnight you eat a grape – wonderful luck is assured if you manage to eat them all in time with the bells. If you have the inclination to peel the grapes in advance it makes eating all 12 in quick succession much easier…
---
New Year is a chance to get dressed up and go to the square to celebrate with your neighbours
The Soller Tram is FREE for everyone on New Years Eve and will transport you to and from the Port from 9 pm to 7 am on New Years Day free of charge.
If you have booked at a local restaurant and want to leave them just before midnight to get to the square – let them know. Many restaurants include party bags and entertainment expecting that you will be celebrating the New Year with them. Just let them know if that is not your plan. Biniaraix Torrente water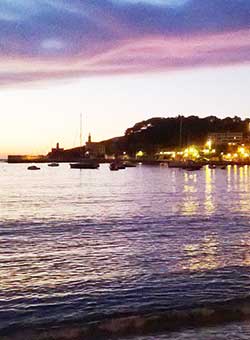 The City of Soller provides music and fireworks to see in the New Year. Sometimes this has been live music and others it has been recorded. Go with the flow, enjoy being with your friends and neighbours and having a party. Take your own drinks and glasses (preferably plastic). Snow on Soller Square
Fornalutx, Deia and Valldemossa all have their own New Year Celebrations and gatherings at which the 12 grapes are equally important.
The dress code for the young Sollerics is often evening dresses and tuxedos which they parade around the square before leaving after they have celebrated midnight with their families. They then head into Palma to join the rest of the Islands youth to party all night and more…
New Year sees the people of Soller joining their extended Soller family in the squares of the City and in local villages. Time to celebrate another year in the Hidden Valley.
---
Sign up for the SollerWeb newsletter: