Hotel Salvia
A historic mansion in the heart of Soller.
The history of Soller is contained in the building that is the Hotel Salvia. The returners to the valley spent their wealth on a series of small palaces when they brought their money back from South America and the rest of Europe. They created beautiful houses and the Salvia is a fine example of a grand nineteenth century mansion house of Soller.
Enter the Hotel by ringing the bell and then be transported into the hospitality and attention to detail of Patrick and Sasha along with their great team. Each of the seven bedrooms are individually decorated with a unique style and elegance that you would expect from this world plus all the modern essentials for complete comfort.
As you enter the ornate reception hall you are instantly drawn to the oasis of the Salvia garden, step out and be awed by the overwhelming views of the Tramuntana Mountains as the perfect back drop. The Salvia has a stunning colonnade terrace with Wisteria & Bougainvillea offering a welcome shade from the Mediterranean sun. From here you can look across the beautiful lawn towards the swimming pool and sun terrace, where you can enjoy sunbathing on the comfortable and stylish Barcelona loungers.
The views of the Mountains from any corner of the Salvia Garden belie its location within the town of Soller, only a 3 minute walk to the Main Square. The Salvia restaurant also offers an A la Carte dinner menu. Enjoy a pre-dinner drink in the Garden as part of this wonderful dining experience, even the flight of the swallows and the bats, the mountains as they turn pink at night… these are all part of the Hotel Salvia experience. The restaurant completes the holiday for so many people.
The Salvia also offers our guests a residents bar where they can enjoy a drink while getting to know the other guests, or if they prefer we have our first floor reading lounge with its sumptuous couches and stunning views of the Mountain & Gardens at Salvia.
Hotel Salvia is a place where guests return annually and more often if they can. They regard it as their home from home and unwind the minute they walk through the door.
The brand of hospitality that Patrick and Sasha have created is that of hosts who know exactly how they would like to be treated when they travel. This is their criteria for the welcome they offer which is appreciated by all guests.
Hotel Salvia looks forward to welcoming you to their world.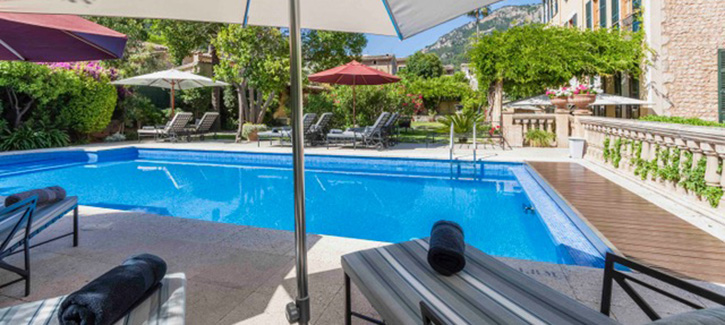 LOCATION
Calle de la Palma 18, Sóller, Mallorca
WE HAVE...
7 lavish and individual rooms each with magnificent views.
All rooms with WiFi , satellite TV & DVD player, air conditioning & heating, security safe, mini bar & hair dryer, tea & coffee making facilities, white fluffy bathrobes
Located in the heart of Sóller
Splendid gardens with shaded terraces and a large pool. Spa Treatment Room
Fantastic lounge, bar and restaurant with A la Carte dinner menu
HOW
---
Sign up for the SollerWeb newsletter: