Pure Salt Hotel, Port de Sóller
A quiet 4 star holiday atmosphere for those looking for comfort and relaxation on the seafront at Repic beach.
Pure Salt, Port of Soller sits in an enviable position nears the waters edge. The bedrooms and Restaurant look out over the stunning horse shoe bay. A perfect world to introduce the clients of Pure Salt to.
The attention to detail is obvious everywhere in the hotel. The staff are largely local and Solleric and they are proud to assist their guests and diners to have a wonderful experience. They are so proud of their world and they want you to love it too.
Experiences are what Pure Salt is all about. The restaurant 'Verd Mari' serves Mediterranean cuisine with a huge, local Soller Valley, emphasis. The restaurant is open to all adults and children over 14 years. The tradition of large local family gatherings exists here at weekends. Sollerics just love this location and appreciate the tastes of the Soller Valley. Enjoying our hotel world with those who live in the Soller Valley is a very important concept for us. Our guests enjoy meeting new people and being part of a very local vibe.
The swimming pool on the penthouse level of the hotel is a very special place. Guests and the occasional restaurant diner enjoy this very special swimming opportunity. When the pool closes at 7 pm the poolside area is used for cocktail parties and gatherings which overlook the wonders of the Port of Soller.
Pure Salt Hotel Port of Soller has a wonderful 'wellness programme.' Massage and manicures and much more are available in the hotel. Experts in the world of cycling and hiking can be introduced to you as you make your daily holiday plans.
Pure Salt Hotel, Port of Soller is a luxury destination with a heart. They look forward to you returning again and again and becoming part of the Pure Salt family.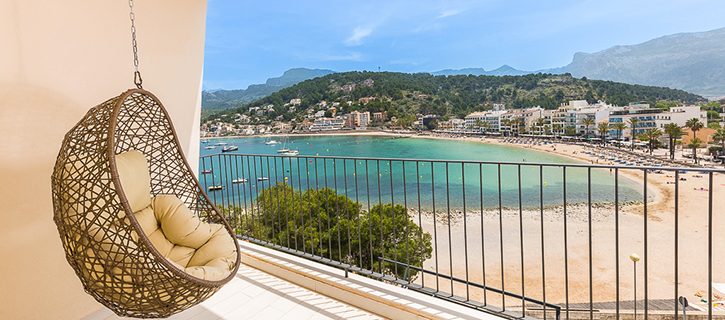 LOCATION
Camí des Far, 5 07108, Port de Soller, Mallorca
WE HAVE
RESTAURANT MEALS and DAY EXPERIENCES
Open to all (from 14 years old)

UPDATE: Book any meal or a pool day directly with the hotel and tell them that SOLLERWEB sent you and you will receive a FREE glass of CAVA or Orange Juice on arrival. (only applicable to bookings direct with the hotel and by confirming you have seen this offer on Sollerweb) CLICK TO EMAIL or call (+34) 971 361 300

Pool day - 30 Euro pp - with sunbed (subject to availability) and three course lunch (excluding drinks)
CLICK for sample set lunch menu

Lunch - served daily from 1 pm to 3:30 pm - from the snack menu
SNACK MENU DRINKS MENU

Dinner - 3 Course - 30 Euro pp- excluding drinks, served daily from 7 pm 10:00 pm (Live music every Saturday with dinner on the terrace)

Breakfast - 20 Euro pp from 7:45 to 10:30 am

Gift Voucher - 50 Euro / 100 Euro /150 Euro - to spend within the hotel or for experience days.

Wellness, Massage and Treatments - CLICK HERE for wellness menu



Please book all above directly with the hotel and say you want the SOLLERWEB offer. This gives you the best price available.
CLICK HERE TO EMAIL RESERVATIONS

Range of hotel rooms with sea view and mountain view
Adult Hotel - over 14 yrs only
Live music every Saturday evening from 7.30pm to 21.30pm (violin or saxophone) on the terrace to enjoy with dinner (please reserve a table)
On Repic Beach, a great location for any activity
EVENTS - The pool area is open from 7 to 9 pm for private cocktail parties for up to 50 people. This is for an early evening party with great views but no swimming.
HOW
---
Sign up for the SollerWeb newsletter: