Cafe Sóller Brasserie
Open all day for meals.... or simply coffee or wine.... relax and watch the Sóller world go by
Café Soller, in the heart of Soller Square, is the place to see and be seen…
A location in the heart of the Square and at the entrance to the Lluna mean that meet ups with friends here are an inevitable part of every day. This takes in breakfast, lunch, dinner and all the coffee and cocktail opportunities in-between.
Hamlet, Marguerite and the team offer you a menu which is produced daily in Soller. A Café Soller bakery creates all the bread and cakes served. The Chefs are highly trained professionals who share the ethos of the company.
Local owners mean that the local vibe is installed at the heart of all that happens. Languages spoken amongst the staff are many, as the attraction of this place is known in many worldwide locations.
'Let's meet at Café Soller' is repeated many times every day. So many find their way for business and social meetings and friends and family gatherings in this landmark Brasserie. Unique cocktails are shaken here every day and fine wines for those who prefer.
This is the place for all times of the day and evening. One of the 'beating heart community restaurants of Soller'. Proud of its location, reputation and all the good things it serves.
Come and see us soon – you are very welcome…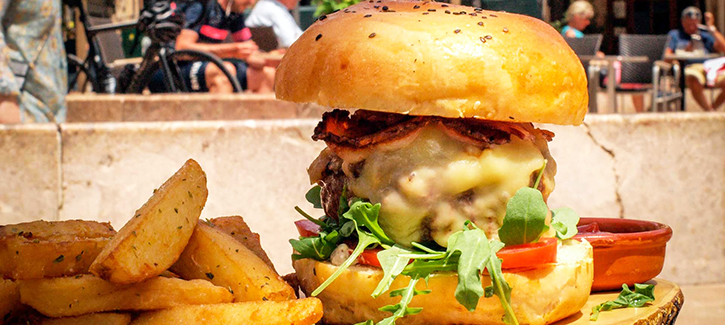 LOCATION
Plaça Constitució 13, 07100 Sóller
OPENING HOURS
08:30h - 22:30h Monday, Tuesday and Thursday
08:30h - 18:30h Wednesday
08:30h - 23:30h Friday and Saturday
10:30h - 22:30h Sunday
WE HAVE...
Tapas, Salads, Pa amb Oli, Burgers, Pasta and main course dishes
A great place to sit, relax and watch the world go by!
Friday Evening - LIVE MUSIC
Large breakfast selection of dishes
Right on Soller Square and at the heart of the town
HOW
---
Sign up for the SollerWeb newsletter: