Tress
Fashion, Beauty and Yoga - under one roof!
This is an Aladdin's cave of concepts in a beautifully converted building where no expense has been spared. On the ground floor a clothes shop with high end but reasonably priced clothes from Spain and Germany. The fashion and shoe selections change regularly and often items can be found here are not even available in Palma. The contacts that the team at Tress has with the Fashionistas of Spain is unique.
Up the beautiful stairs to a suite of rooms housing the Beauticians services and state of the art solarium. Unique beauty machines are on offer here including one for weight loss which is currently the only machine available of its type in Mallorca. The Beautician services already have a huge local following and is the favourite of many local ladies and visitors.
The journey continues up more stairs to the Yoga studios which occupy the whole of the top floor. The Yoga and Pilates classes are on offer and are open to anyone to join. Classes are held daily and you can join in at any class, on any day. The Yoga Studio is loved by all who use it and the daily classes appreciated by people who appreciate being able to walk round the corner to their local yoga studio.
Tress is a Concept store and the whole body experience is to be found within their stylish walls. Interesting, changing fashions and shoes on the ground and first floor. Larger size garments have been acquired from the finest designers and are available right here. The Concept is working right here in Soller and Tress and all the team look forward to welcoming you soon.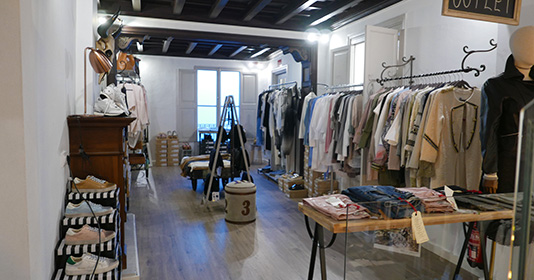 LOCATION
Calle Bauza n.10 Sóller 07100
OPENING HOURS
Open from from 11 a.m. - 8 p.m.


WE HAVE
Fashion for all
Shoes and accessories
Full Beauticians with many treatments
Yoga Studio with classes each day - agenda to follow
Friendly and welcoming
BEAUTICIAN / TREATMENTS
Hair Removal – Wax ...From 5€
Hair Removal - Laser ...from 20€
Facial ...from 35€
Body treatments ...from 30€
Manicure ...from 18€
Pedicure ...from 20€
Solarium – please enquire for prices
HOW
---
Sign up for the SollerWeb newsletter: