Lemon Pie Tearoom and Catering
Brunch, Lunch, afternoon tea...and food for parties too!
'Lemon Pie' has been a feature of the Soller Valley world for a few years now. Many villa holidaymakers have sampled the exquisite paellas and Lemon pies in their vacation times here. Weddings and parties have occupied the summer months and the excitement for the cakes has been created.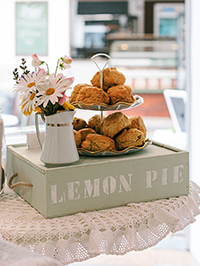 The newly opened Lemon Pie Tearoom pulls all this together with lemons galore. The signature dish is never forgotten in this place, now open for so much more. A tea room serving delicious all day brunch and lunch from fine china plates. Afternoon tea with the finest home made scones, jam and cream. Catering for children's birthday parties delivered to the Camp de Football party fields. A teenage milk shake hour with their own choice of music. Children's delights come with a warm welcome for the little ones. This is a community hub in the making.
The Champagne afternoon teas have the girls in mind. Celebrations and 'me time' is a feature of life at Lemon Pie. It's all about the chat and the cake.
At heart you have Rachel working her culinary magic in the newly installed state of the art kitchen with an A team of people ready to make sure that the Lemon Pie experience is one that will be repeated again and again.
The location, on the only pedestrianized street in the Port of Soller, mean that many pass the door each day. Those on their way to the beach can pop in and collect a picnic hamper – Lemon Pie style.
A tiny taste of Ireland is present at Lemon Pie where teas and other tastes of the 'old country' can be sampled.
Lemon Pie Tearoom looks forward to welcoming you

LOCATION
Calle Jaume Torrens 17a, Port Soller, 07108
OPEN
Tearoom is Open Tue - Sun 10am to 5pm

Open year round for catering - please call for details
WE HAVE...
Afternoon tea served at the Port Soller Tearoom daily
Breakfasts - eggs benedict, or smashed avocado or French Toast plus many more
Lunches for all tastes with sandwiches, quiche, salads and daily specials
Fabulous menus for small dinner parties or large events
Working with you to create your ideal food adventure
Working in your home, your holiday villa, or cooked and delivered to your door
HOW
---
Sign up for the SollerWeb newsletter: