Enseñat Real Estate
Specialists in sales and long term rentals
The Enseñat Family have been selling and renting homes in the Soller Valley for the past 43 years. In their early days they were one of just two agents in Soller and have a tradition and history that they are very proud of.

José Luis, a third generation Enseñat is now at the helm of the business and he is a true Solleric. After university and studying Tax and Accountancy he developed his career in hotels and tourism before returning to run the family business. He works alongside Joaquin who is the specialist in the Fornalutx area and Uncle Juan who makes up the team.

The speciality of this agency is in managing long term rentals. They work closely with owners of businesses, multiple apartments and houses who want the income from long term rentals.

The Enseñat team ensure a fully managed service with everything taken care of for absentee landlords.

Ensenat Inmobiliaria do not work with holiday rentals. This is not a service they offer.

House sales are an important part of the work of the agency and Ensenat have close connections with the Fornalutx area. Often they are involved in sales of houses that go on to become long term rental properties. The Ensenat name is associated with the speciality of Property and Rental Management.

José Luis and the Ensenat team including Joaquin and Juan look forward to welcoming you to their offices in the centre of Soller. Whether buying, selling, renting or requiring the service of experienced Property Managers you are assured of a professional service.

Ensenat specialise in looking after the interests of the businesses of the Soller Valley. Business leases for shops, restaurants, hotels and all Soller Valley businesses are dealt with here. They look forward to working with you.

PROPERTY OF THE MONTH
in the outskirts of Soller
4 bed, 1400 m² grounds
690.000 € (click photo below)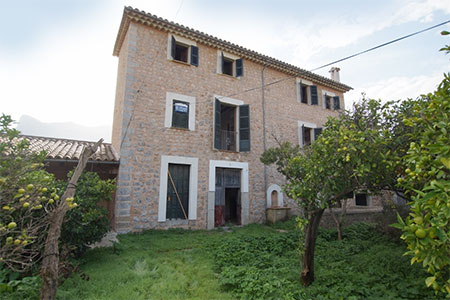 LOCATION
Carrer Bauçà, 5A 07100 Sóller
OPENING HOURS
Monday to Friday 9.30h a 13.30h and 16.30h a 20.00h Saturday 9.30h a 13.30h
WE HAVE...
English, French, Spanish & Catalan
Knowledge of area & excl. houses
Long term rentals
Property and rental management
Business leases for shops, restaurants, hotels...
Valuation of properties
HOW
---
Sign up for the SollerWeb newsletter: