Empowering Tutors
Online: One to One and Group Tutoring
With two years of disrupted learning due to Covid, many children have dropped behind where they thought they would be with their academic achievement.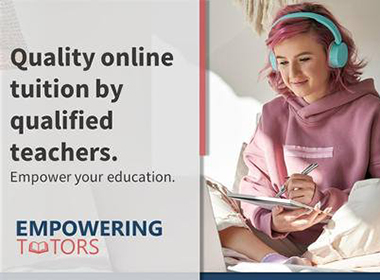 Tutoring can help strengthen subject comprehension, boost confidence and build important learning skills. Tutoring often gives students the individual attention that they might not get in a larger class.

Qualified Teachers – All our tutors are qualified teachers. Safeguarding Checked – All our tutors have a valid enhanced safeguarding check to ensure all our children are safe.

You might think that it would be obvious that all tutors were qualified, and safeguarding checked but unfortunately most tutoring companies don't require that. It's what we would expect for our own children and ensures the highest standard and safest levels of online tutoring.

One to One – We offer specialist private tutoring to help students catch up to where they should be or accelerate those students already performing well to achieve greater goals.

Group Classes – Can offer targeted support for those certain topics that a student has trouble with. There might be one topic that a student struggles with, be that Algebra or Fractions in Maths, or Forces in Physics. There are lots of specific topics, and if the one you need isn't there then just ask.

Almost every topic is covered from junior school, GCSE's, IGCSE's, IB, A levels and Degree help. Also help with entrance exams. Subjects: Mathematics, English Language, English Literature, Physics, Chemistry, Biology, Geography, History, Media, Business Studies, French, German, Spanish, Computer Science, ICT, Primary Science, Primary Maths, Primary English, Economics, Phonics

Online – With online delivery we can bring the very best tutors from anywhere in the world, straight to the student. We utilise advanced online video tutoring tools facilitating screen sharing, whiteboards, online editing, advanced mathematics sections for graphical simulation and coding in all the common programming languages. The ability for a student and tutor to go through past test papers together online is really valuable.

Empowering Tutors is part of the UK's leading education services group with extensive experience across teacher recruitment & training. Utilising our knowledge of the sector and contacts with 1000's of teachers, we have created Empowering Tutors to provide a quality education experience for both students and teachers.

LOCATION
Worldwide / Online
WE HAVE...
Online tutoring in all subjects - one to one lessons and group lessons
Fully qualified teachers
All teachers are Safeguarding checked
Ability to do an hour on a certain topic that you child is struggling with - or purchase a number of sessions for weekly tutoring
Secondary, Primary, International Baccalaureate, 11 plus
Friendly teachers used to teaching online
HOW
---
Sign up for the SollerWeb newsletter: