Boutique AMIARA
Nancy Muniz is delighted to be in her beautiful shop next to the entrance to the Es Port Hotel. Her selection of clothes is unique and ranges from German brands specialising in larger sizes to individual pieces created in Silk from Soller and other European fashion houses. Nancy's early training in dressmaking and tailoring makes her a dream to work with. If something you buy in the shop needs shortening or adjusting she can do it for you. The sewing machine takes pride of place on the table in the centre of the shop. She also takes in sewing commissions for you and is always happy to talk about any sewing projects you might have.
The selection of plastic woven bags from Mexico is second to none. These fine bags are crafted in a Women's Project in Mexico and sold throughout the USA. The only place in Europe that these bags are on sales is in the Amiara Shop in the Port of Soller. Nancy has a relationship with the project and supports their charitable endeavours to help themselves. The bags have a huge following and many people make the journey through the mountain to the Port of Soller in Mallorca to buy one.
New for this season is the ART BECOMES PERFUME range from Ramon Molvizar. The perfumes alongside their work of art bottles and packaging glitter with silver and gold. This whole range of perfume and gold gifts needs to seen and smelt to be appreciated. Art & Gold & Perfume in Swarovski Glass is a gift that will be remembered for ever.
The AMIARA boutique is a beautiful shop with constantly changing fashion opportunities. The bags, the perfumes, the greetings cards and all the other unique pieces on sale make this a special clothes shop and an Aladdin's cave of interesting ideas.
Nancy Muniz looks forward to welcoming you to AMIARA in the heart of the Port of Soller. She also looks forward to seeing old customers and friends from her years in the Boutique at the Hotel Residencia in Deia.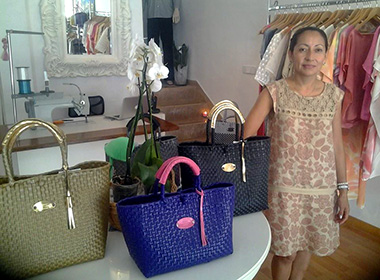 LOCATION
Calle Antoni Montis 8f, Port Soller
OPENING HOURS
Monday 10 - 14 hrs Tues - Fri 10 to 14 & 15.30 to 19 hrs Saturday 11 to 18 hrs Until Feb 28th open on request
Please phone 608 339 346
WE HAVE...
an exclusive range of womens clothes
unique handmade items
handmade handbags by a womens project in Mexixo, Amiara being the only outlet in Europe
alterations and sewing services
larger sizes available
individually created pieces
beach wear
near the beach, right next to the market
HOW
---
Sign up for the SollerWeb newsletter: